Z Company Hacking Crew (ZHC) has hacked and defaced Indian Govt sites with the Operation called #KashmirNow #FreeKashmir
.
Deface Page: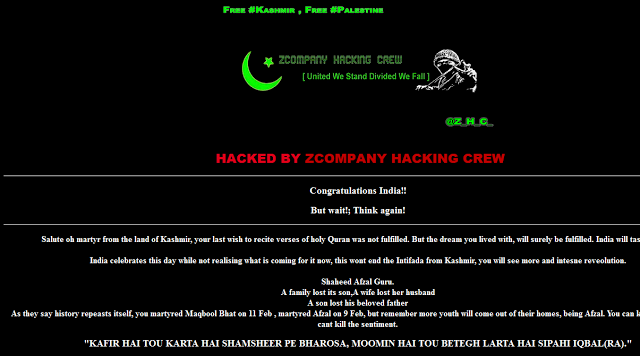 ZHC - Z Company Hacking Crew has been continuously hacking Indian sites. This time, ZHC targetted high profile Indian Goverment sites with the operation called #FreeKashmir.
List of Hacked Sites with Mirrors:
[#] - Energy Minister, govt of Rajasthan
http://mop.rajasthan.gov.in/

http://hack-db.com/224618.html
[#] - NMC, Nashik Municipal Corporation, Nashik, Nasik, Urban Local Body, Rajiv Gandhi Bhavan Hacked By ZHC
http://nashikcorporation.gov.in/

http://turk-h.org/defacement/view/485894/nashikcorporation.gov.in/
[#] - Zilla Parishad Nashik and Raigad, Indian Gov. Hacked by ZHC #KashmirSeige
http://zpraigadgov.in/admin/photos/

http://www.zpnashikgov.in/admin/photos/

http://hack-db.com/227301.html

http://hack-db.com/227302.html
Deface Message:
 HACKED BY ZCOMPANY HACKING CREW
Congratulations India!!
But wait!; Think again!
Salute oh martyr from the land of Kashmir, your last wish to recite verses of holy Quran was not fulfilled. But the dream you lived with, will surely be fulfilled. India will taste defeat.
India celebrates this day while not realising what is coming for it now, this wont end the Intifada from Kashmir, you will see more and intesne reveolution.
Shaheed Afzal Guru.
A family lost its son,A wife lost her husband
A son lost his beloved father
As they say history repeasts itself, you martyred Maqbool Bhat on 11 Feb , martyred Afzal on 9 Feb, but remember more youth will come out of their homes, being Afzal. You can kill somone but you cant kill the sentiment.
Greets:
Toshiro - Mongo0se - Milan Milo - Madni - Zulfi Hassan - Leo Seven - Technique - BlackOne HaXor - Zhc Storm - HotHeAd - Aalaw - Kashmir Freedom Fighters & Everyone Supporting #OpKashmir