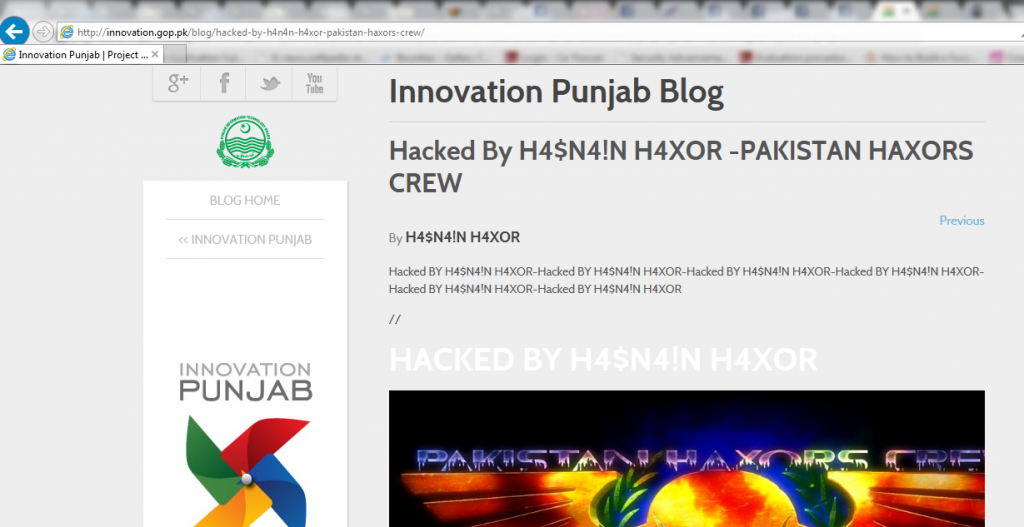 Today, Innovation Punjab Blog gets hacked and defaced by Hasnain Haxor from the hacker group Pakistan Haxor Crew. Innovation Punjab is a project by Govt of Punjab to empower the next generation of innovators in Pakistan.
A Week before, FATA secretariat website hacked by the same hacker. Hasnain Haxor has also been involved in Pak-India Cyber War and defaced many Indian domains.
Attacked Site with Defaced URL:
http://innovation.gop.pk/
http://innovation.gop.pk/blog/hacked-by-h4n4n-h4xor-pakistan-haxors-crew/
Mirror of the hacked Site:
http://www.zone-h.org/mirror/id/20683082
No specific reason mentioned by the hacker of the hack. It seems that Hacker was just randomly testing the website security, find it vulnerable and  hacked it.
"Just testing your website security But its not good"
Attack anatomy is unknown. It seems that the hacker managed to log into the admin panel of the website and created a post with the hacked message.
The complete deface message left by the hacker on the page can be found below:
Hehehe Just testing Your Website Security 😀
But Your Website Security Is Not Good 😀
Nothing Personal My Dear Just Secure It 😀 Nothing IS secure
==PAKISTAN ZINDABAD==