Eg-R1z - A famous Egyptian Hacker with the motto of Hack the Hackers is back again. Today, popular hackers forum Alboraaq gets hacked by Eg-R1z for scamming people.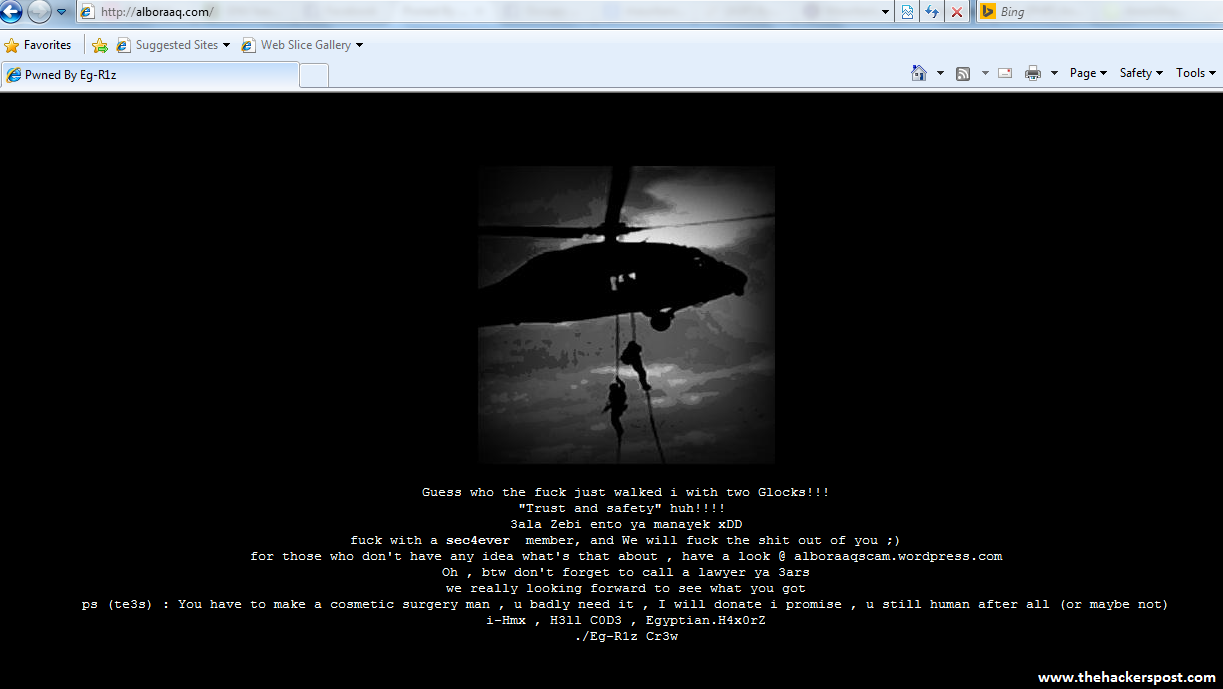 Last month, Famous hacking forum HackForums was hacked by the same hacker. This is not the first time that alboraaq has been hacked, before it was hacked by various hackers R00TW0RM and The Injector.
It is unclear, how hackers managed to get into server. Either it was DNS attack on domain registrar of Alboraaq or It was type of actual web server attack.
The possible reason of attack on the alboraaq server is scamming people on the alboraaq forum regarding private exploits.
"For those who don't have any idea what's that about , have a look @ alboraaqscam.wordpress.com"
The hackers has also given warning that don't mess with Sec4ever members.
"F*** with a sec4ever  member, and We will fuck the shit out of you ;)"
Full deface message:
Guess who the fuck just walked i with two Glocks!!!
"Trust and safety" huh!!!!
3ala Zebi ento ya manayek xDD
fuck with a sec4ever  member, and We will fuck the shit out of you 😉
for those who don't have any idea what's that about , have a look @ alboraaqscam.wordpress.com
Oh , btw don't forget to call a lawyer ya 3ars
we really looking forward to see what you got
ps (te3s) : You have to make a cosmetic surgery man , u badly need it , I will donate i promise , u still human after all (or maybe not)
i-Hmx , H3ll C0D3 , Egyptian.H4x0rZ
./Eg-R1z Cr3w
Hacked Site:
http://alboraaq.com
Zone-h mirror(Proof of Hack):
http://zone-h.org/mirror/id/22942257