Today, Pakistan Ministry of Interior has been hacked and defaced by some unknown hackers on the Defence Day of Pakistan.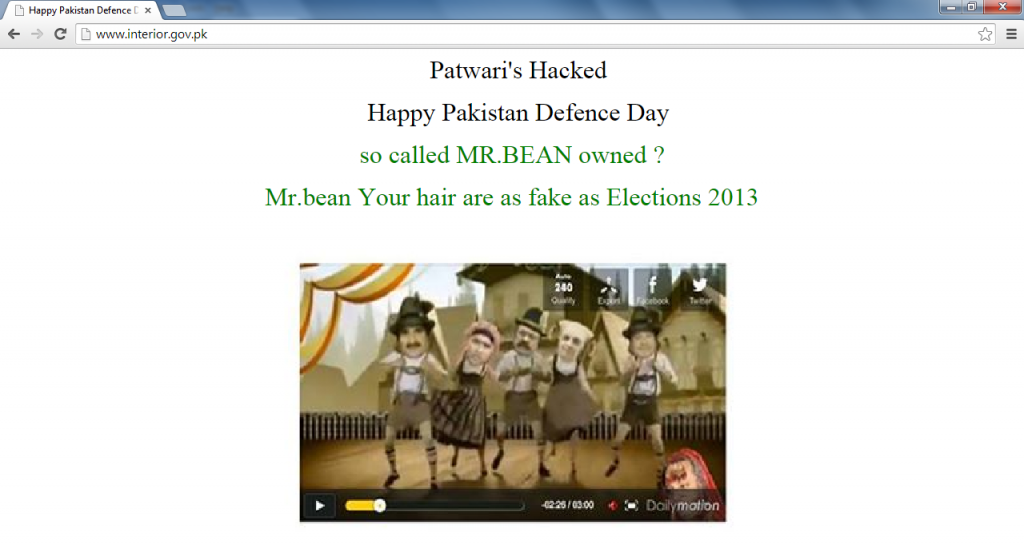 Attack anatomy is unkonwn, but its clear that hacker successfully managed to hack into the Server of Interior Ministry and defaced the index of the site.
The hacker mocked at the Interior Minister (Ch Nisar Ali Khan) and called him Patwari and protested against Elections Rigging. The hacker writes on the deface page:
Patwari's Hacked
Happy Pakistan Defence Day
so called MR.BEAN owned ? Mr.bean Your hair are as fake as Elections 2013
Hacked Site:
http://www.interior.gov.pk/
Mirror (Proof of Hack):
http://www.zone-h.org/mirror/id/22862098
As protests continue on the roads in the capital city of Pakistan against Election rigging, the hackers also protests by hacking Interior ministry Website to raise awareness of rigging to the world. The hackers also hacked state owned site PTV(Pakistan Television Site) as a protest.
At the time of writing, Interior Ministry Site was defaced and showing the message left by the hackers.