The official web portal of Pakistan(www.pakistan.gov.pk) has been hacked by Anonymous Hackers in support of peaceful protesters under the operation called "OpPakistan".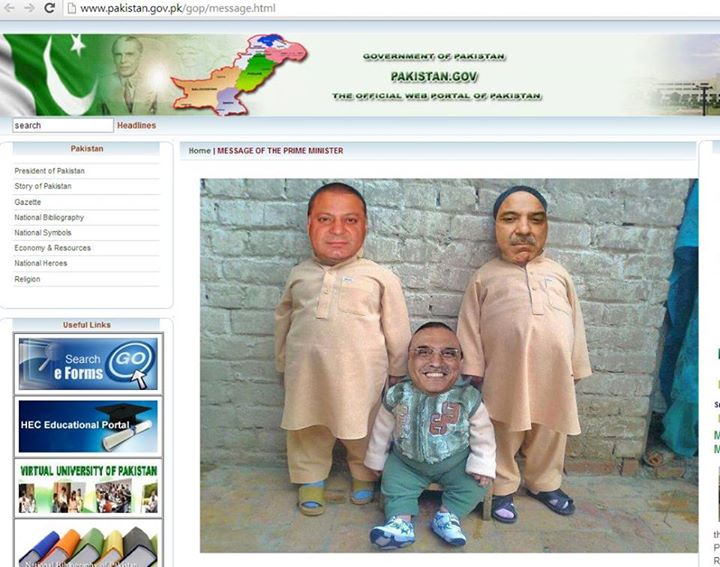 Anatomy of attack is unknown. It seems that hackers managed to get database access by exploiting SQL Injection flaw on the web application and changed the content of the website.
The hacker changed the content of Message of Prime Minister to their own modified content and called the Prime Minister as Gullu-e-Azam and supported the AzadiMarch protesters.
MESSAGE OF THE GULLU-E-AZAM
As you are aware that I Mian Nawaz Sharif am the most corrupt politician and the most corrupt prime minister in Pakistan's history. I have been killing innocent people from a long time now. Therefore, many people named me as a "Killer" and a "Murderer". Few days ago, I had sent many Gullu butts to Islamabad at Imran Khan's Azadi March in police uniform. All Pakistani's wanted me to resign, therefore I told my Gullu butts to start killing innocent children, women and men at the Azadi March. I always cheated in politics and I always will.
The hacker also posted a message about the former President of Pakistan. It reads,
However, I am not the only one that is killing innocent people around in Pakistan. One of my best friend "The Joker AKA Asif Ali Zardari" who killed his own wife and wifes brother is working with me too. Our plan is to destroy Pakistan nice and slowly. People always wanted a change in the country, but we never gave them and never will !  Thank you for reading and understanding. Pakistan Zindabad
Hacked Site:
http://www.pakistan.gov.pk/
http://www.pakistan.gov.pk/gop/message.html
At the time of publishing the article, website was unreachable.