Secret Documents of Israel Military
Leaked by the hackers group Latin Hack Team uses the handle  TeamLHT under the operation
#OpIsrael
. The hackers attacked on the website (www.israelmilitary.com), dumped and posted Secret document of Israel Military online.
The hacker posted the leaked documents on their twitter handle and The hackers post learned from it.
Targeted Site:
www.israelmilitary.com
Anatomy of the attack is not known, it seems that hackers found and exploited SQL Injection flaw on the website and dumped the database.
See Also: Israeli Intelligence Agency Mossad Down and 30K Agents Info Leaked by Anonymous
The leaked information contains Email addresses, Hashed Passwords, Credit Card Numbers and Country Name of  Israel Military.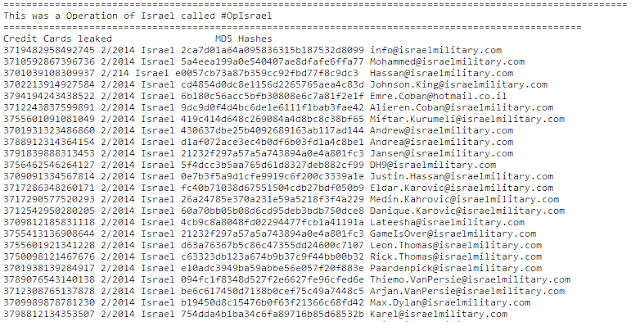 The leaked document also contains secret information regarding The Hamas terror war against Israel, Gaza Strip, Statement by Israeli Leaders and IDF targets Kassam launchers etc.
The hackers posted the leaked secret document of Israel Military on AnonPaste Site. The link can be found
here
.