AnonSec hackers  with Anonymous Kurdistan starting Cyber Operation against Iraq and Turkey for the Freedom of  Kurdistan under the operation called #OpFreeKurdistan.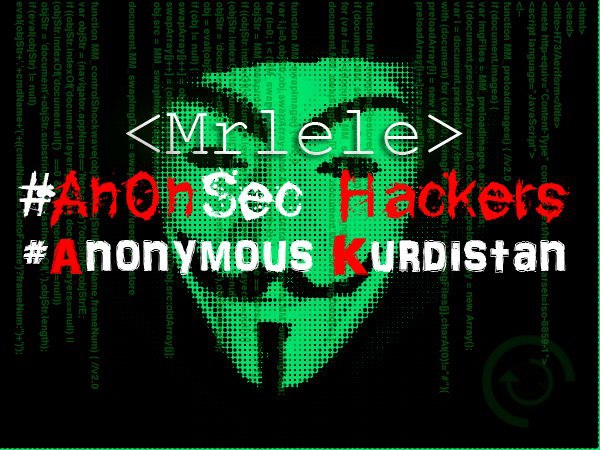 Anonymous hackers going to launch a massive cyber attack against Iraqi and Turkish networks in partnership with many other hackers for the freedom of Kurdistan. Hackers also invited other hacker to join this operation and target .tr and .iq domains.
Some of the targets mentioned by the hacker can be found below:
IRAQs TARGETS
http://pmo.iq/
http://cabinet.iq/
http://cbi.iq/
http://iraqinews.com/
http://www.oil.gov.iq/
http://www.mofa.gov.iq/
http://www.industry.gov.iq/
TURKISH targets:
http://www.basbakanlik.gov.tr/
http://turkiye.gov.tr/
http://mfa.gov.tr/
http://sgk.gov.tr/
http://botas.gov.tr/
http://turkhaygen.gov.tr/
http://www.treasury.gov.tr/
http://www.turkstat.gov.tr/
http://www.tccb.gov.tr/
Below is the complete interview with the owner of AnonSec Hacker explaining about Anonymous, How they interact, Attack to the high profile websites and their strategy for the upcoming operation.

Q: Who is Anonymous?
A : Anonymous is Unknown, anonymous is not 1 or two , We have no leaders , no Owners. We fight back against the Government Online and on the internet.
Q: What is your current mission?
A : To fight with the governments and not letting them shut down the internet, and freedom of Speech. Anonymous Has Operations, As #Operation Israel , #Operation Payback Mostly, we are distributed denial of service Attacking  [ As known As DDoS attack ] and WikiLeaks Leaking website Databases and shutting down their websites for hours or days with DDOS and Currently I don't DDoS Attack , but yes I do Leak Websites and dump them .
Q: You attack Websites With Botnets or Booter or just some DDoS tools ?
A:  Actually people use botnets for Attacks but me.. No i dont Use this  as i said now i dont DDoS attack.
Q:  Are you all active members on IRC ?
A:  Yes, We are still active on IRC channels.
Q:  How long will this attack go on for?
A: We do not Stop , and There is no time frame. WE will stop until we stop being Angry.
Q: Are you prepared to go to jail for your cause?
A: Some of our Official anonymous hackers went to jail we all know this as in LulzSec , AntiSec, Teampoison and Some AnonSec members wanted by the Police. Yes I might go to jail but I am trying my best to hide my self , And polices cant find me i guess .
Q: If you were able to resolve this situation, what would you want the respective media authorities of the world to do?
A: Personaly , Well I want them to know how to respect people and treat them good, not like animals or Criminals and let them know That we do not forgive and we do not forget. As me I can't say everything on here in this interview about Anonymous and myself.
Q: Do you believe that your Anonymous Hackers or friends will get in jail? Or you?
A: Yes I do believe this, but still anonymous is not 1 or two , or one hundred. We are unknown and underground hackers. Maybe they can bust me and some other hackers but they are not getting all of us , That's just impossible . We are the 99% .
Q: Do you have your own team for hacking?
A: Yes, I do. I am the owner and founder of AnonSec Hackers.
Q: Is your Team AnonSec Hackers , group of Anonymous? Hacktivism?
A: Yes, AnonSec was founded in 2012 By me and my friend , We are a group of Anonymous Hackers.
Q: How many members are in AnonSec Hackers Team?
A: We are just a few , but We have teamed up with some other strong Teams Just like Terror-Sec,  WeedHead Hackers, and more. Me as Mrlele I work hard every night on Anonymous Operation and My friend AnonSec666 a member of my team Works on Pedophiles. Attacking Pedophile Websites and Shutting down Their servers. I would like to Thank all of our supporters that helped him out on #OpSickosDown , I really appreciate it.
Q:  Whats your Next plan or Operation in AnonSec Hackers?
A:  Well I am getting ready to make an #Operation for the Freedom of Kurdistan , For the governments of Iraq and Turkey This #Operation will be Soon , If anyone wants to join they can find us on Facebook Fanpage "AnonSec Hackers " It will be against Government and banks and website databases stuffs.
Iraq websites and Turkey websites soon in our hands and kurdish flag will be up for the kurds..!
Expect AnonSec Hackers , We are coming
Q: What websites have you attacked?
A : Prime minister of Iraq [  Nouri Al-Maliki /  www.pmo.iq  took it down for 6 days and 8 hours. ] iraqi news website  , Kurdistan post Website ,  Central Bank of Iraq , Israel Government WebsiteS , Turkey government Website  Many more bank webites…
Q: Do you have any Message to Iraq government??
A: Yes sir , just to let all of you know. We are going to Exploit their Servers with Kurdish flag and Our Anonymous Messages. Expect the un expected.
Q:  Okay Thanks do you have anything else to say?
A: Yes, Please. Iraqi Government and turkey government  Expect AnonSec Hackers, We are coming soon for you too..!
We are anonymous
We are legion
We do not Forgive
We do not Forget.
Expect us.