A hacker group from Afghanistan named Afghan Cyber Army has breached 34 Pakistan sites and left them defaced. Some site are still defaced & others are recovered.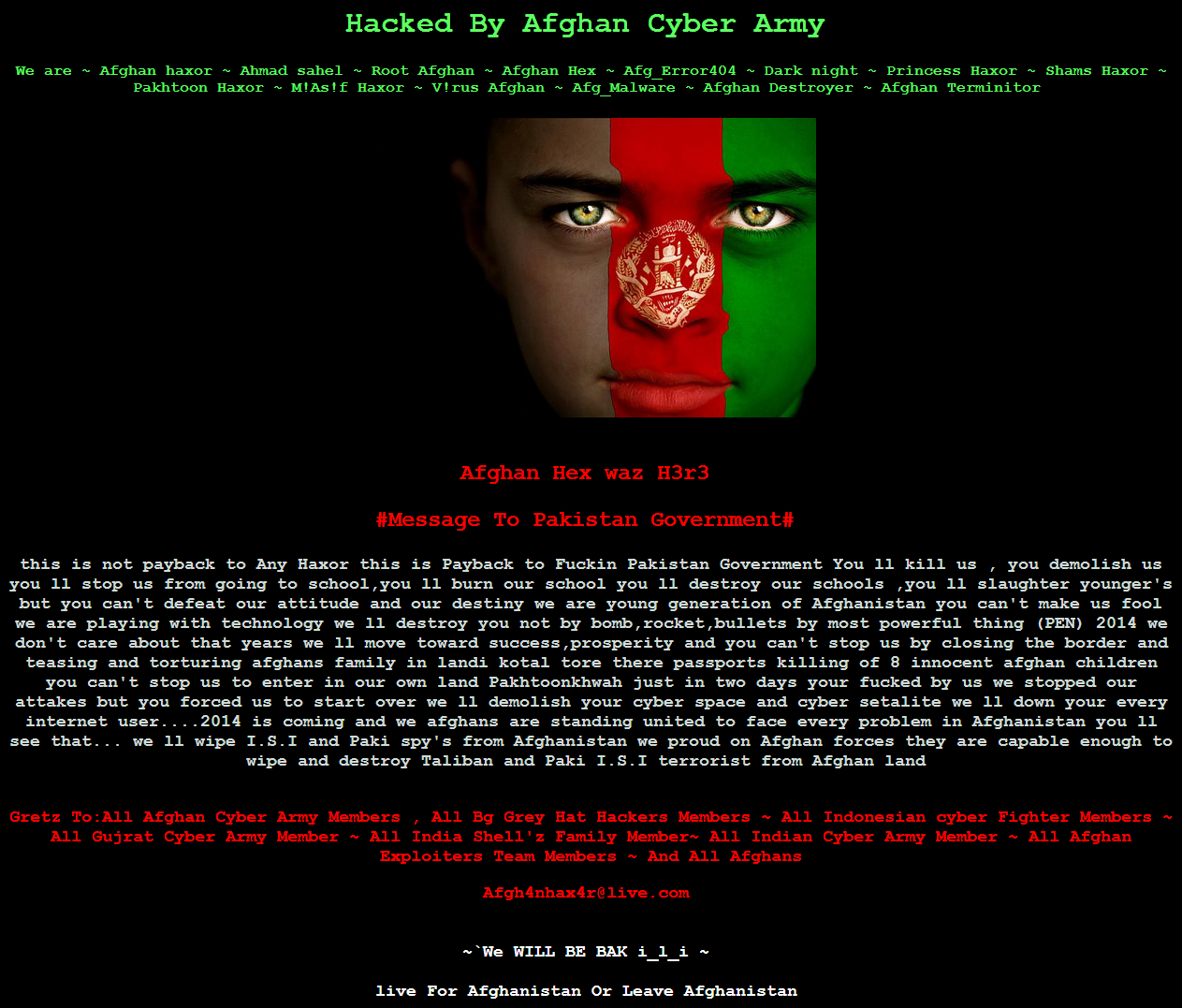 This hacktivism attack comes as a message to the Pakistan government and not an attack at any other hackers as in the past.
According to Whois Record, Sites are hosted on B2bHosting.net. Name Server with ips are given below:
   NS11.B2BHOSTING.NET          67.19.139.138
NS12.B2BHOSTING.NET          67.19.139.139
The hacked sites are on shared hosting server. This seems that the attacker are not able to get a root access, because 300+ sites are hosted on this server & only 34 sites are hacked.possibly the attacker used a S
ymlink
attack to hack sites on the server.
The message on the site:
this is not payback to Any Haxor this is Payback to Fuckin Pakistan Government You ll kill us , you demolish us you ll stop us from going to school,you ll burn our school you ll destroy our schools ,you ll slaughter younger's but you can't defeat our attitude and our destiny we are young generation of Afghanistan you can't make us fool we are playing with technology we ll destroy you not by bomb,rocket,bullets by most powerful thing (PEN) 2014 we don't care about that years we ll move toward success,prosperity and you can't stop us by closing the border and teasing and torturing afghans family in landi kotal tore there passports killing of 8 innocent afghan children you can't stop us to enter in our own land Pakhtoonkhwah just in two days your fucked by us we stopped our attakes but you forced us to start over we ll demolish your cyber space and cyber setalite we ll down your every internet user….2014 is coming and we afghans are standing united to face every problem in Afghanistan you ll see that… we ll wipe I.S.I and Paki spy's from Afghanistan we proud on Afghan forces they are capable enough to wipe and destroy Taliban and Paki I.S.I terrorist from Afghan land

Hacker Group Members:
We are ~ Afghan haxor ~ Ahmad sahel ~ Root Afghan ~ Afghan Hex ~ Afg_Error404 ~ Dark night ~ Princess Haxor ~ Shams Haxor ~ Pakhtoon Haxor ~ M!As!f Haxor ~ V!rus Afghan ~ Afg_Malware ~ Afghan Destroyer ~ Afghan Terminitor
Greetz:
Gretz To:All Afghan Cyber Army Members , All Bg Grey Hat Hackers Members ~ All Indonesian cyber Fighter Members ~ All Gujrat Cyber Army Member ~ All India Shell'z Family Member~ All Indian Cyber Army Member ~ All Afghan Exploiters Team Members ~ And All Afghans
Long Live Friend Ship of Afghanistan and India
While looking at greetz, it seems that the attack is done with the help of Indian hackers or might be indian hackers are behind this.
The sites that have been breached range from news sites to private company's, full list below:
http://acews.com/
http://acmilogistics.com/
http://adsclass.com/
http://aiwan-i-quran.com/
http://akmalhussain.net/
http://alhussainnews.com/
http://aljasim.com.pk/
http://allawasaya.com/
http://allgarments.com/
http://alliedcotton.com/
http://alphonsocorp.com/
http://amafhhgroup.com
http://amafhhlogistics.com/
http://amafhhoverseas.com/
http://amicocorp.net/
http://amigopharma.com/
http://anwarindustries.com
http://appkisite.com/
http://ardenengineering.com/
http://arrahmahospital.com/
http://asiansalvaging.com/
http://assteelgroup.com/
http://atcpk.com/
http://ausafhaider.com/
http://awaleed.com/
http://ayhind.com/
http://azmatbibitrust.org/
http://bajwas.com/
http://bestyellowpagespk.com/
http://bigb.com.pk/
http://bokharahouse.com/
http://bpi.com.pk/
http://buzybeebuilders.com/
http://cargo-east.com/
http://changeace.com/
http://chohan.net/
http://chromatexchemicals.com/